By Jennifer Dilley
The Responsibility & Privilege of Serving Customers 
"A customer is the most important visitor on our premises. He is not dependent on us. We are dependent on him. He is not an interruption of our work. He is the purpose of it. He is not an outsider to our business. He is part of it. We are not doing him a favor by serving him. He is doing us a favor by giving us the opportunity to do so."​

– Mahatma Gandhi, 1890 
This quote is more than 100-years old, but it is still true today.  The opportunity to serve customers is a privilege.  The responsibility of that privilege is ensuring the customer's voice is heard and understood. Brand teams need to know what their customers need and what they value, as decisions about products and services are made on the customers' behalf.​
Defining Customer Value
Understanding customer value can be a differentiator for companies in today's challenging market. Simplistically, if a brand team has $1 to invest – or needs to cut $1 in spending – knowledge about what customers' value must guide these business decisions to stay competitive.
So let's talk about customer value…In everyday conversations, value has many meanings including price, worth, or even benefits. It is imperative for organizations to operate with a common understanding of customer value. From a marketing and branding perspective, it helps to think about customer value as an equation:
Customer Value equals Benefits minus Cost (CV=B-C)​.

Benefits include the advantages of quality, service, image, brand, experience, and the functionality one gets or emotions one feels when using the product or service. Cost is not only price – which we think of as cash, credit, interest, even service fees – but it can also include non-price terms such as time, effort, energy, and convenience.* 
When teams define their Customer Value Equation, they can clearly identify growth opportunities by emphasizing or improving aspects of an offering that customers value (where to invest) and they can identify cost savings by eliminating aspects of the offering that customers do not value (where to cut).
Developing the Customer Value Equation 
SIVO employs a 5-Step Process to develop your Customer Value Equation. In partnership with our client teams, we Mine, Explore and Quantify the customer value drivers leveraging Functional, Emotional, Life-Changing and Social Impact values. Note that the Quantify Step can be qualitative consumer learning, a quantitative survey or ideally, a combination of both. The design of this step is dependent on how much past learning that the team already has in hand.
Four Categories of Customer Value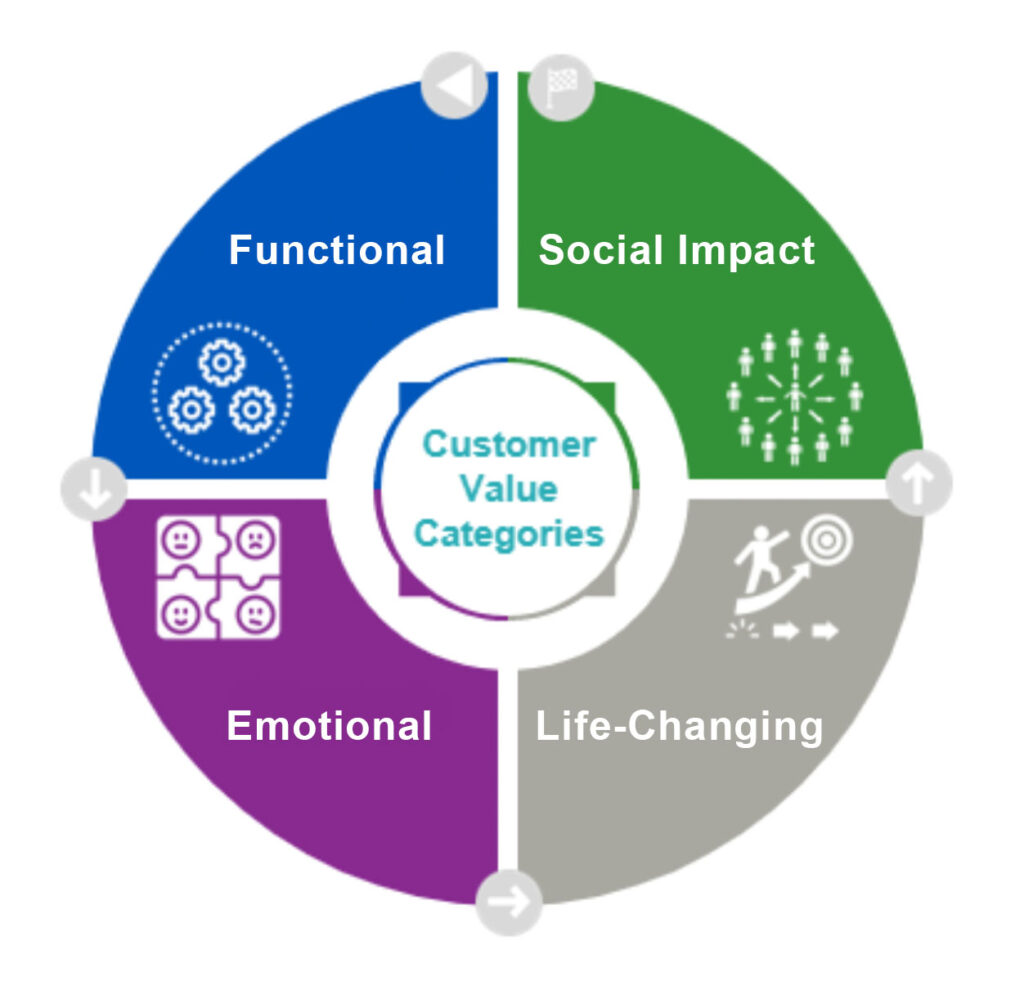 We then partner with teams to Develop & Refine the Customer Value Equation. Lastly, we help teams Apply their equation by assessing where their products/services are over/under-delivering and facilitate them through the generation of ideas to improve the customer experience.
The result of our process is rich with discoveries. These insights provide a unifying understanding of the target customers' purchase drivers, must-haves and nice-to-haves regarding a product or service – giving teams confidence and clarity on what to do with $1 more or $1 less.
Our Offer to You
SIVO is interested in sharing our Customer Value Equation experience and case studies with you and your insights team! Our "CVE Download" can easily be part of an in-person or virtual "Lunch & Learn" or your next team meeting.
If you can answer "yes" to at least one of the following three questions, please reach out to SIVO.
Do you want to better understand what your customers value?
Do you want to improve how you serve your customers?
Are you interested in improving:
Your products and services,
Customer loyalty​,
Market share, and
Revenue and profit growth?
To learn more, contact us at Contact@SIVOInsights.com.
*Referenced article by Gautam Mahajan https://journals.sagepub.com/doi/full/10.1177/2394964320903557