Innovation requires seamless collaboration, agility, and the ability to pivot wisely and effectively. Timelines are tight and the right talent is critical to successfully manage the Insights process. SIVO's  On Demand Talent™ team recently provided a Consumer Insights Innovation Lead for Betsy Frost, Chief Revenue Officer at DRY Soda Company.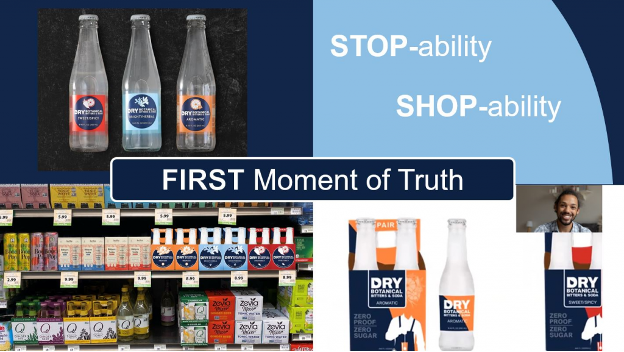 Right Talent for Right Impact: Beverage Consumer Insights
DRY Soda needed a Consumer Insights expert to manage the First Moment of Truth (FMOT) consumer learning for a new product launch, DRY Botanical Bitters & Soda, a ready-to-drink non-alcoholic cocktail with zero sugar.
Our Seasoned Consumer Insights Expert:
Developed an agile learning plan aligned to objectives
Pivoted effectively as marketplace dynamics shifted
Coordinated hands-on research logistics and findings
Served as key resource for the SIVO moderator
Communicated seamlessly with cross-functional team
Getting Support for Beverage Industry Research
"…it felt like SIVO was a member of our team."
From the get-go, the SIVO's talent creatively leveraged DRY Soda's internal assets and owned social media to recruit the right consumers for quick-turnaround learning. Timelines and budgets were priorities, with no room for missteps. When supply chain complexities forced an immediate change in launch plans, the team worked smartly and effectively to pivot from cans to bottles in a record 15 days. Navigating a plethora of moving parts, including new package design, messaging, team alignment, and consumer feedback demanded an experienced team to pull it off successfully!
Streamlining the Insight Gathering and Implementation Process
Do customers want to 'hire' your product?
During Consumer Research, Frost was thrilled to listen, participate and ultimately make the right real-time decisions from an outside vantage point rather than having to lead and facilitate herself.
Frost said, "You made it super easy and streamlined for me…it felt like SIVO was a member of our team."
To learn more about the DRY Soda story and line of products available, visit drinkdry. Check out this new product: DRY Botanical Bitters & Soda!

You can Shop Now or click the 'Find Dry' link to leverage the unique geo-locator. It allows you to buy online or from the store front retailer of your choice. This shoppable platform is powered by Pear Commerce technology. To learn more about Pear Commerce, see this 90-second video link.
Schedule a Discovery Call Today
SIVO Insights On-Demand Talent provides the right talent for your business needs; it is NOT a one size fits all model. What talent do you need to immediately impact YOUR business? Email Brent Budke to successfully match the right talent.
Are you curious what working differently looks like? – just ask. SIVO Insights can help you figure out the best path forward for you or your company to get the resources – and talent – you need. Schedule a discovery call today to get started.